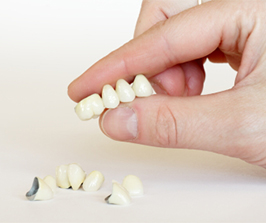 Porcelain Veneers & Lumineers
What are veneers and why are they used?
Do you want the kind of smile that stuns even the paparazzi? Dental veneers could be the answer. A veneer is typically an incredibly thin piece of composite or porcelain, which is bonded to your tooth. Veneers can add strength and create a radiant, healthy new look.
If you have chips, gaps, or just feel that your teeth aren't as attractive as you'd like, then veneers often make a lot of sense. You might be surprised at the long list of problems that can be solved with veneers. Whether your teeth are poorly aligned, have unsightly spaces, are too short, are worn looking, or have other problems veneers could change everything. They also can be a great solution if you have any particular teeth that aren't responding to whitening procedures. If you've ever thought that a brilliant smile just wasn't in your future, think again. Veneers can make that vibrant and healthy looking smile all yours.
Common uses for porcelain veneers:
Discolored teeth caused by smoking, stains from drugs or resin fillings.
Correct gaps between teeth.
Broken, chipped or irregular teeth.
Worn down teeth.
With veneers, you get a long lasting smile solution. As an added bonus, veneers are affordable. Maybe best of all, being a standard procedure, the process is simple and quick. The smile you want may be entirely possible.
We offer veneers in los angeles, carson and lomita
If you are considering porcelain veneers as an option, schedule a free appointment at one of our convenient locations nearest you. If you are located in the heart of Los Angeles please schedule an appointment to visit our downtown office, if you live in the South Bay please contact our Lomita office. Once you schedule a consultation we can discuss the options available to you and figure the best fit for your individual needs.
A preliminary appointment is a great way to discuss all possibilities. In a second appointment, the dentist will take an impression of the tooth and prepare the surface for the veneer. The dental lab uses the impression to create a unique veneer, made exclusively for you. In the final appointment, the veneer is fitted for you. That's all there is to receiving your dazzling smile.
Lumineers
Ultra-thin lumineers are custom designed to give you the beautiful smile you've always dreamed of. Unlike traditional veneers, there are no shots, no drilling of sensitive tooth structure, and no pain. They're even reversible, so you have nothing to lose and a beautiful smile to gain. Plus…lumineers are proven to last for over 20 years, so your beautiful smile will be with you for years.
If you want a completely natural looking smile, rely on our unparalleled expertise. You'll see how beautifully the veneer mimics healthy enamel. The realism is especially amazing with pearl-like porcelain veneers or ultra-thin lumineers.